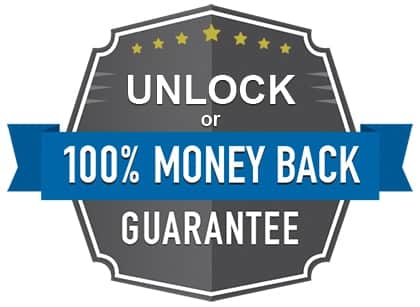 All the services on our website are backed by our 100% money back guarantee. This refund policy was implemented to give customers reassurance that their orders will be delivered in good faith. This page explains what this guarantee from the terms and conditions means in plain English.
The 100% refund guarantee applies only if our attempt to unlock your Phone returns an 'unavailable' report from the unlock supplier/network. This is when the 'unlock' can't be delivered, and a 100% refund will be granted.
In some instances, the unlock may not work but it was correctly done from our side. If that happens, you'll have to send us a proof that it didn't work for you with a photo or video as evidence before we give a refund.
The Refund Policy Doesn't Apply to the Following Cases:
Your IMEI number shows 'Phone already unlocked' according to IMEI checker.
The IMEI you provide is not correct and an unlock was produced, or it says 'not found'.
The wrong network or service was ordered at your end. To avoid this issue, use the IMEI checker.
Guarantee doesn't apply to blocked / blacklisted / barred / lost / stolen handsets after the unlock.
If you have an iCloud activation lock on your device – Check the iCloud lock status.
If you don't provide evidence showing the unlock didn't work, i.e. a photo or video showing the phone is still locked.
You can't complete the activation process; we are only able to give you support and advice on the procedure to follow.
If the sim card you use has expired or has been deactivated by the operator. Please use an active or new sim card.
You don't wish to unlock with us anymore, but the order is in progress and IMEI already submitted for unlocking.
If your handset is reported as blocked/barred but you want to use the phone in a country that is barred. The handset will only work outside the country it was barred in (as the networks have the blacklist and will deny the service).
If you ordered a REMOTE UNLOCK SERVICE via USB but you are not providing the requested info or you are refusing to connect with us.
If you select a wrong service – we will deduct $2,99 for the IMEI checking. If we used additional services like a GSX checking, account status checking this will be deducted also.
If you have error with the IMEI code or any problems, feel free to contact us. Our aim is to conveniently provide the unlock for your device. Allow 3-5 days for the refund to show up on your card statement or back in your PayPal account.
Refund Policy Last Changes: January 20, 2019