iPhone IMEI Checker – check iPhone IMEI using a fast and professional service. Find your iPhone's original carrier, Simlock, iCloud status, purchase date and warranty details by IMEI code. In the US and other countries, the iPhones are locked to a specific carrier. When the user purchases an iPhone at a subsidized price with 1 or 2 years contract, the phone can be used only with the original carrier. If you bought a second-hand iPhone and you don't know the original carrier, whether it's locked or not or you want to check if the previous user has reported it as lost or stolen – then we can check all those details for you.
iPhone IMEI Checker – Supported Models
Check iPhone 12/12 Mini/12 Pro/12 Pro Max IMEI (Simlock & Carrier).
Check iPhone XS/XS MAX/XR IMEI (Simlock Status & Carrier).
Check iPhone X/8/8+ IMEI (Simlock Status & Carrier).
Check iPhone 6/6+/6S/6S+ IMEI (Simlock & Carrier).
Check iPhone 5/5C/5S IMEI (Simlock & Original Carrier).
Check iPhone 4S IMEI Code (Simlock Status & Carrier).
Check iPhone 4/4S/3GS IMEI number (Simlock status / Carrier).
Check iPad ANY Model IMEI (Carrier & Unlock status).
You must know that factory unlocked iPhones can be used with any carrier in the world. Their usage is not country-limited. When you traveling to another country you can use a local SIM card to avoid international roaming charges.
Steps to Check iPhone IMEI Number
Step 1: First, you need to find the IMEI number of your iPhone. Go to Settings > General > About or dial *#06#.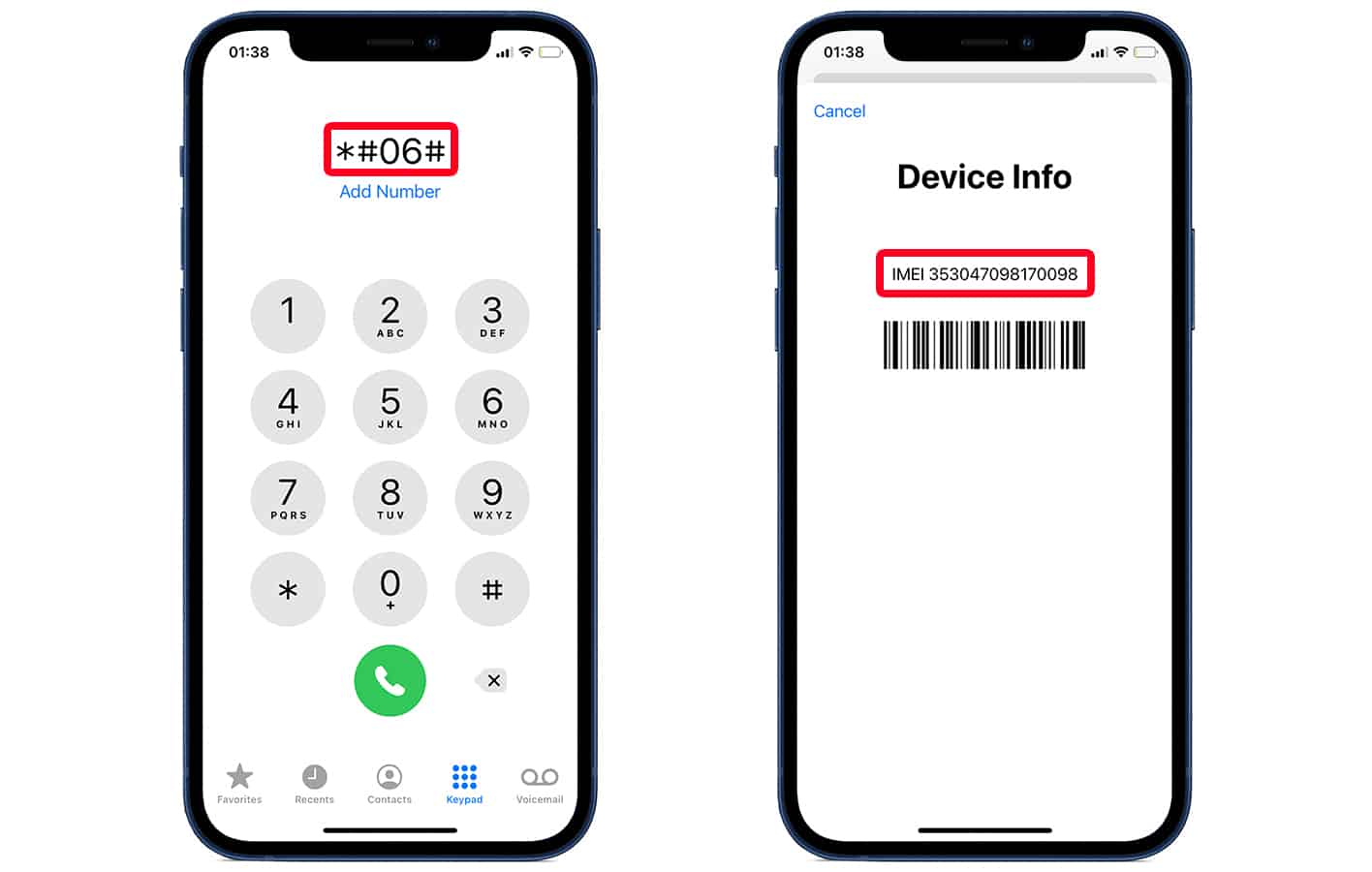 Step 2: Enter the IMEI number on our website and place an order.
Step 3: After 10-60 minutes you will receive an email with all the details for your device.
iPhone IMEI Check Details:
Check iPhone Model and GB size
Find Original serial number
Check iPhone Warranty status
Find iPhone Purchase Country
Check Find My iPhone status
Find iPhone Carrier / Network
Check iPhone Unlock status
Your IMEI number will be checked directly in the Apple's database. If you got an email that your iPhone is "Unlocked" then your device is sim-free and factory unlocked. If you receive an email that your device is "Locked" then you need to use a unlock service to unlock your device.
iPhone IMEI Check Sample Report
IMEI: 359403083667223
Model: iPhone X Space Gray 64GB
Serial Number: F2LVN70XJCLH
Warranty: Under Warranty
Warranty Days Left: 327
Warranty Start Date: 03.11.2017
Warranty End Date: 03.11.2018
MAC Address: 709507BE24AC
ICCID: 89956203366551160358
Find My iPhone: OFF
Original Carrier: US T-Mobile Locked Activation Policy
SIMLock Status: Locked
To start the iPhone unlock process, you need to choose your device model and carrier. After completing the unlocking process, your IMEI number will be whitelisted in the Apple's database and your iPhone will be FULLY UNLOCKED FOREVER for ANY SIM card in the World.