Official Xiaomi Mi Account removal service to fix your Xiaomi device permanently by IMEI or FSN (the Mi lock code). All countries are supported including USA, Canada, Europe, United Kingdom, Ireland, Germany, Austria, Belgium, Italy, Romania, Slovenia, Greece, Mexico, Argentina, Bolivia, Chile, Colombia, Costa Rica, Sri Lanka, El Salvador, Africa, South Africa, Namibia, Zambia, Botswana, Zimbabwe, Kenya, Nigeria, Malawi, Uganda, Jordan, France, Spain, Portugal, Poland, Malta, Finland, Sweden, Denmark, Norway, Estonia, Macedonia, Albania, Serbia, Bulgaria, Cyprus, Dominican Republic, Guatemala, Montenegro, Panama, United Arab Emirates, India, Nepal, Bangladesh, Bhutan, Ukraine, Russia, Uzbekistan, Kyrgyzstan, Kazakhstan, Vietnam, Japan, Turkey, China the rest can be submitted to the Worldwide service.
The average processing time is 1-3 days (usually done same day in 10-60 min, depending on the option selected) but most services are super fast. If you are not sure what is the correct option for your device, please contact us on the live chat here on the website unlockboot.com/chat
How to Find the FSN Mi LOCK Code of your Locked Xiaomi / Poco Device
1. Power ON and Connect your Device to a WiFi Network. The device should be on the Mi Lock ("This device is associated with an existing Mi Account") screen.
2. Tap 10 times on the "padlock" icon on the top middle section of the screen.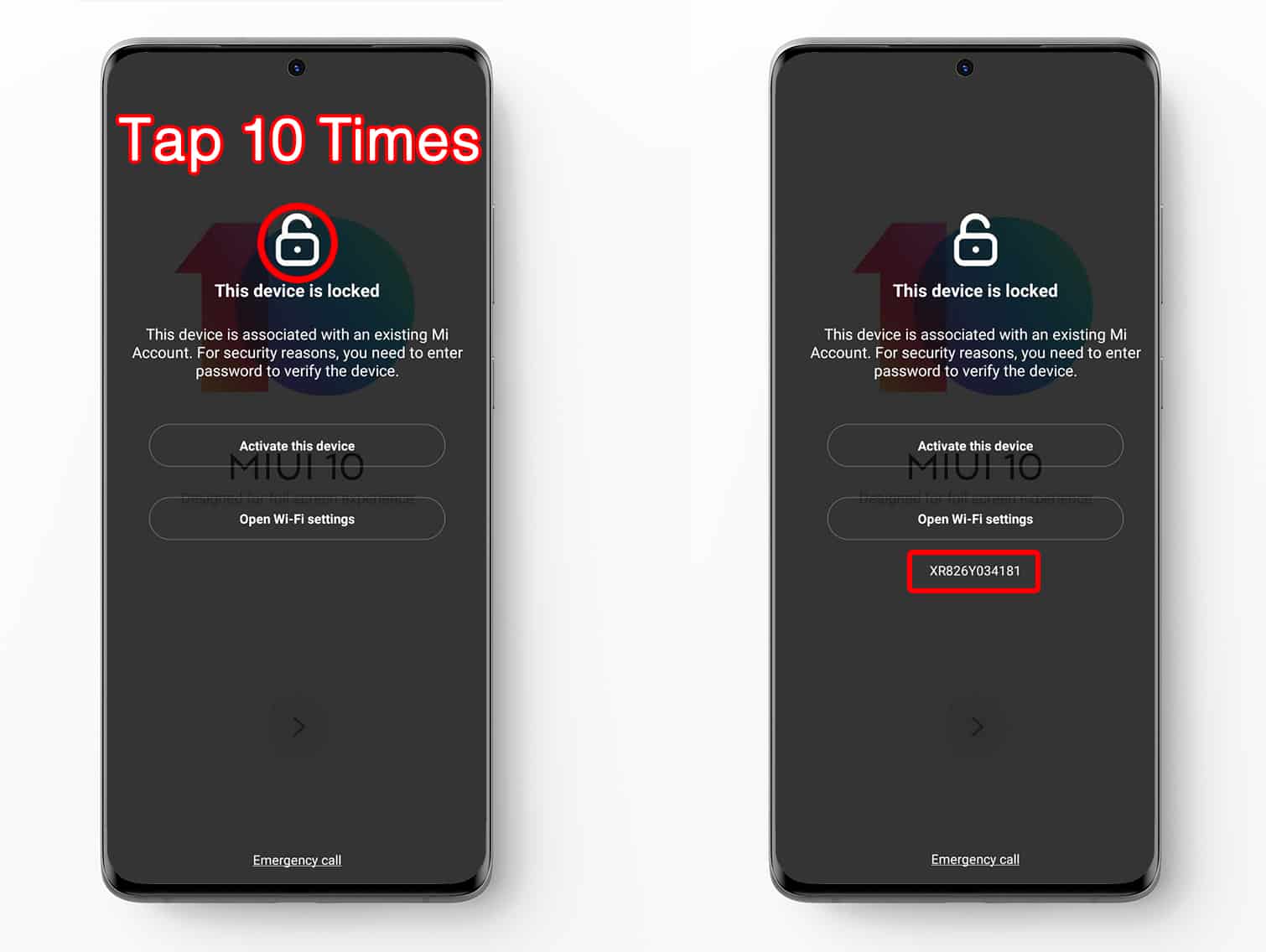 3. The FSN lock code will be displayed on the screen.
4. Enter the lock code on our website (use capital letters, please). Click Unlock Now and place an order.
5. You will receive an email once the Xiaomi Mi Removal process is completed. After that, you just have to connect the device to WiFi and finish the activation process.
This is a permanent service, the device will be removed from the original Mi account forever so you can update, factory reset, etc. You can use a new Mi account without getting re-locked again.
Please note that ONLY Xiaomi or POCO devices are supported, this service will ONLY remove the MI Lock so you can use the device normally. If the device is Google FRP locked as well you have to use a separate service.
Clean mode supported only, you can check it here before placing an order: https://i.mi.com/find/device/activationlock?_locale=en#/status?_k=tcerag
If you need any additional help, please connect with us on the live chat, Facebook or WhatsApp.