Official service to unlock Samsung phone by IMEI number remotely via unlock code. This service is safe, easy and fast with 100% success rate. All you need to do is to select the unlocking service and provide us is the IMEI number of your Samsung phone. After we complete the unlock process, you will receive an email with the Samsung Unlock Code (8 or 16 digit NCK & MCK codes) and the steps on how to enter the code on your device to unlock it permanently for any network in the world.
Unlock Samsung Phone – Compatible Models and Carriers
We can unlock ANY Samsung phone including Samsung Galaxy S23 Ultra, S23 Plus, S23, S23 FE, Z Fold 5, Z Flip 5, Z Fold 4, Z Flip 4, S22 Ultra 5G, S22 Plus 5G, S22 5G, S21 Ultra 5G, S21 5G, S21 5G, S21 FE 5G, Z Flip 3, Z Fold 3, Note 20 Ultra 5G, Note 20 5G, S20 FE, S20 FE 5G, S20 Ultra 5G, S20 Plus 5G, S20 5G, Z Fold 2, Z Flip, Fold, Note 20, Note 20 Ultra, Note 10+, Note 10, Note 10+ 5G, S10, S10+, S10E, S10 5G, Tab S7, S6, S5, S4, Xcover, A90, A80, A70, A71, A60, A50, A51, A52, A53, A54, A42, A41, A40, A30, A32, A20, A21, A22, A10, A11, A12, A13, A13 5G, A14 5G, A02S, A02, A03S, S9, S9 Plus, Galaxy S8, S8+, Note 9, Note 8, Note 7, Note 5, Note 4, Note 3, S7, S7 edge, S6, S6 Edge, A8, A6, A5, A3, S5, S4, J7, J7 Prime, J5, J3, Alpha and many more.
This service also works for ANY carrier in the world including AT&T, Sprint, Boost, Xfinity, Spectrum, Cricket, Verizon, Metro PCS, T-Mobile, Mint, TracFone, Straight Talk, Net10, Total, US Cellular, Ting, Visible, Rogers, Telus, Bell, Vodafone, O2, EE, Claro, Movistar, Airtel, Netcom, Telia, Telenor, Sunrise, Swisscom, Orange, Three, A1 and many more carriers around the world.
Why Use our Service to Unlock Samsung Phone?
Fast Code Delivery Time and Cheap unlocking price.
Permanent Unlocking Solution – Will remain unlocked forever.
Remote Samsung unlock service via IMEI or USB (depending on the carrier).
No software needed in the most cases – just enter the unlocking code.
Update your Android version without relocking.
No Rooting, No flashing – We are using an official Samsung solutions.
No Warranty Void – Your warranty will still remain valid.
How to Find the IMEI Number of your Samsung smartphone?
You can find the IMEI Number of your Samsung phone just by dialing *#06# or by navigating to the Settings -> About section.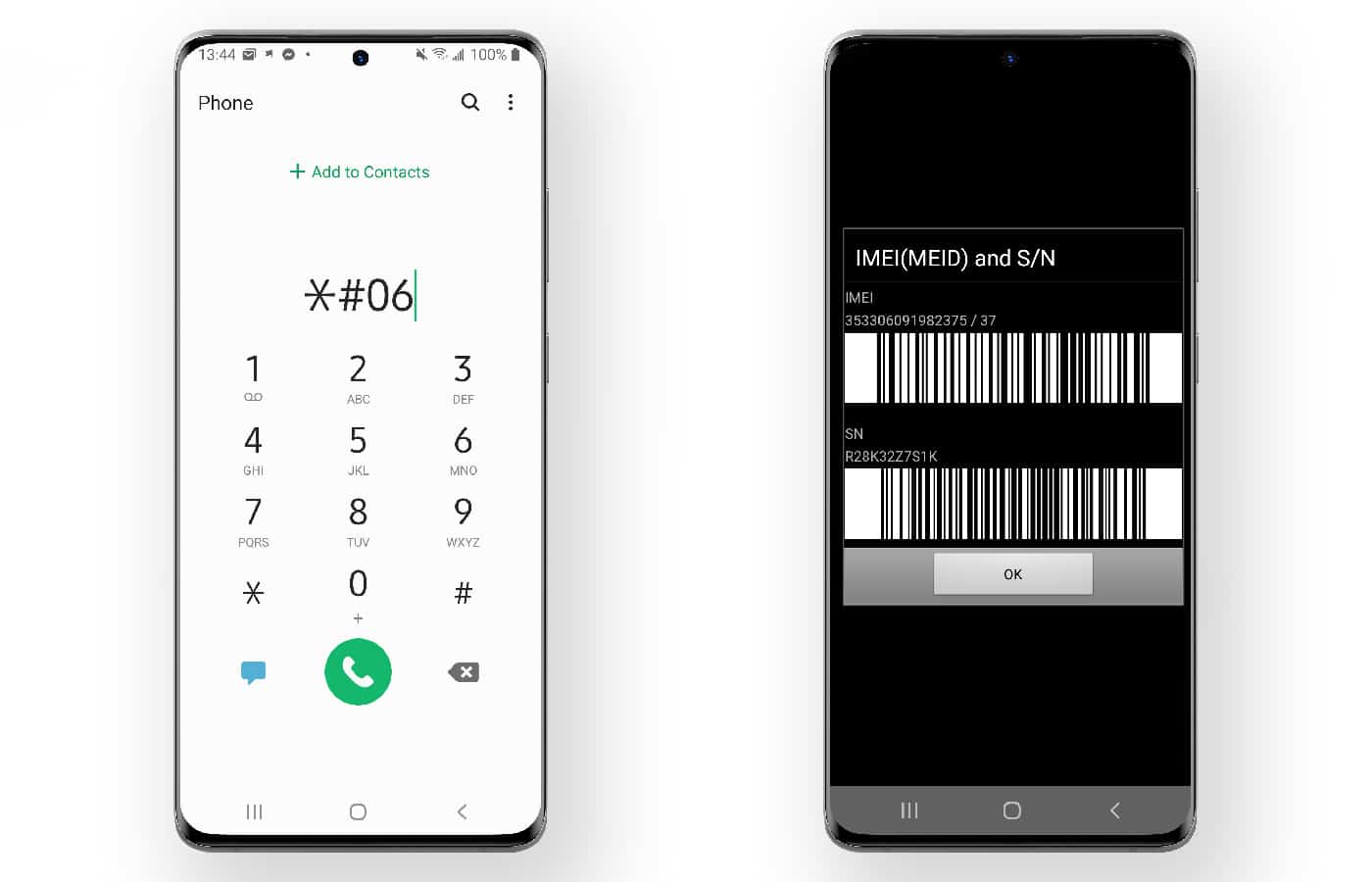 Alternatively, you can find the IMEI under the battery (for Samsung phones with removable batteries).
The Samsung unlocking procedure is very easy. Just you need to do is enter the unlocking code received by e-mail. The unlocking process is 100% legal and with UnlockBoot you will get the lowest price.
How to Enter the Samsung Unlock Code?
After you receive an email from us, all you need to do is to put a non-accepted sim card into your Samsung phone and power it on. Now you will see that your phone asks for SIM network Unlock PIN – enter the Samsung Unlock Code from the email you received from us.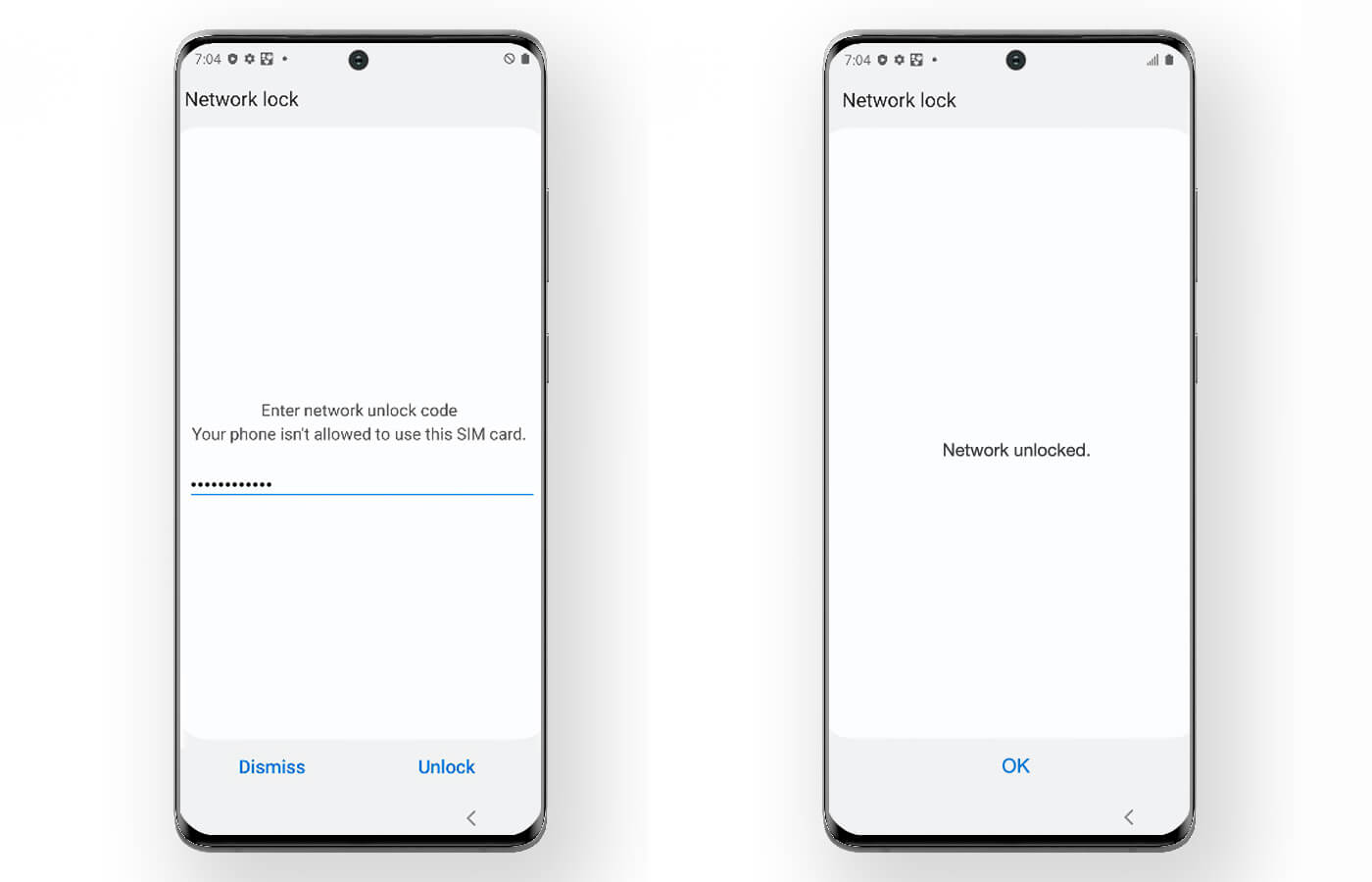 Now you will see a message: Network Unlock Successful. After that, your phone is permanently unlocked forever. You can now use it with ANY SIM card and GSM network in the world.
Video Guide on How to Unlock Your Samsung Phone with Code
Video Guide on How to Use our Remote Unlock Services (Sprint, Boost, Verizon, T-Mobile, Region lock, etc.)
For the remote unlocking service you will need a Windows PC and USB cable. The remote USB unlock service will be performed remotely in 10-30 minutes after we connect with you. There's no rooting and no flashing involved. Your warranty will still remain valid.
In the most cases your data will not be wiped, but you can create a fresh backup before starting with the remote usb unlocking process.
If you want to repair the IMEI of your current device, then use our remote IMEI repair services.
If you have any further questions on how to unlock Samsung phone, don't hesitate to contact us.